2016 Award Winning Contemporary Design - Surrey
Client Brief: – To design a contemporary garden which forms a complete extension of the house – for dining alfresco and entertaining all year round – primarily for adults.
Both covered and open seating areas have been incorporated – the covered area containing a cutting edge kitchen/bbq, sofa's and gas firepit – all requiring exemplary
construction techniques and installation.
A radial canal with fountains link all the areas, along with exceptionally effective but simple planting, and sublime but subtle lighting.
We are delighted that this garden won The Association of Professional Landscapers National Award 2016.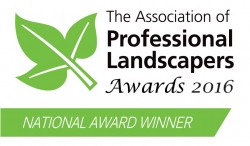 USING THE LIGHTBOX:
— Click any image or the first (top left) to start the lightbox display
— Move mouse over side of image for paging button
— Or use your keyboard Left & Right arrow keys
— Click [Close] or press [Esc] to end display