Construction Detail and Working Drawings
These are obviously not essential in producing the overall design, however Cross-Section and Elevation details of the Hard Elements (paving, steps, water features, levels etc.) in the design can be very useful for a client or contractor to help in avoiding any misunderstanding in exactly how the building works are to be constructed. These can be further enhanced with perspective and axonometric projections.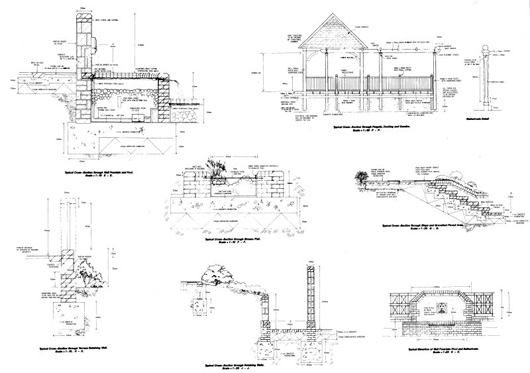 Some clients do like considerable quantities of this detail which can, relating to time, cost more than the overall design, whereas other clients do not require any and are able with discussion to fully understand the concept and construction methods, especially if they are from a building background.
We therefore do not include automatically in the costings for the above, preferring to discuss with the client the various elements of the new garden first, and then proceeding as and if instructed.

If you would like any further information on our garden design services or would like to discuss a specific garden design project, please contact us.